Treasury Direct is better in all aspects than Savings, especially in security. There are so many options such as Selic, IPCA, with or without semiannual interest, among others.
In this article I will teach you in 4 simple steps how you can start investing today!
Tesouro Direto is a great investment because of its high liquidity, safe as long as Brazil is not "broken", that is, low risk and, consequently, low profitability.
You can use it to make the Emergency Reserve (Treasury Selic) or to save until you can buy the car, house or prepare for retirement.
Let's go to Footsteps:
Have a Valid CPF:
I imagine that practically all Brazilians have a valid CPF, if you don't have it, go to the city hall or Cras of your city to do it.
This step is necessary because all your investments will be linked to your CPF, with that, if the Broker you invest in goes bankrupt, you will have access to your investments in the Electronic Investor Channel (CEI).
Open an Account at a Stockbroker:
Here is an essential step in your life as an investor. There are many brokers at the moment and, as time goes by, I imagine that more will come.
Learn how to negotiate in crises here.
You are going to buy government bonds, why would you need a brokerage firm?
Stockbrokers act as an intermediary between individuals or legal entities in the negotiation of Public Securities, Shares, Investment Funds, Debentures, among others.
In the market, there are two types of brokers: brokers linked to banks and independent brokers.
Brokers linked to banks carry the name of the bank, have banking services plus the services of a broker. One of the few benefits is that there is no need to transfer money to the broker.
Independent brokerages only provide the Investments service.
To put money in independent brokerages, it will be through TEDs.
Bearing in mind that today there are [Digital] banks that have free TED, something that is taken into account for every investor who will one day succeed.
Read about the brokers, about the administration and / or purchase fees and if they are qualified in the Stock Exchange Program. Any questions, comment below, I will answer all questions as soon as possible.
Study All Possible Direct Treasury Investments:
If you want to know very well, I prepared a Complete Guide to Direct Treasury!
Selic Treasure:
When you invest in Treasury Selic, you are investing in the Selic Rate + a percentage described in the Bond that you will buy. This option is for the Emergency Reserve.
IPCA Treasury:
In this Title, you will be investing in the IPCA Rate, that is, in the Inflation rate (Consumer Price Index) + a percentage.
Prefixed Treasury:
The Fixed Rate Bond is used by investors who want to set the market rate during the term of the Bond. For example, if you bought this title in July 2019 as in the image below, you would be, today, with a "Gold" Title.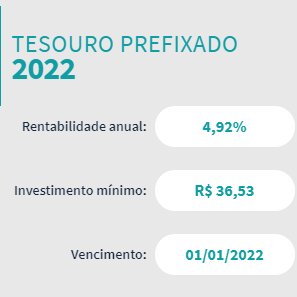 If you bought this title in June 2019, you would be able to hire at a return of 6,39%, below is a more or less identical comparison:
Half-yearly interest:
There are bonds that pay you interest every six months (half-yearly coupons). The tax is already withheld in the amount that will be deposited in your account.
Invest in Direct Treasure!
That's right. "Hands-on."
Trying to get experience just with theory, is like trying to kill hunger just by reading the menu.
Jordan Mustache
After registering at a brokerage, whether linked or independent, you can invest in the Treasury Direct website itself or through the brokerage.
If you choose the Tesouro Direto website, you will enter the login (CPF) and password created by you when opening the account by the broker.
At Tesouro Direto, there is an expiration date that will be redeemed automatically, remembering that you can redeem at any time, as long as you are in business hours.
No Treasury Direct website, you can simulate your possible investment and see which one best suits your idea of ​​investor or investor.
Download Here The Complete Guide About Direct Treasury
Bonus (Main Taxes on Direct Treasury):
Therefore, it is not all flowers. There are Taxes charged when you invest in Treasury Direct on your profit.
Income Tax (IR):
This Tax has no way of escaping. What we can do is decrease it over time, because it follows the regressive table shown in the figure below:
Tax on Financial Operations (IOF):
This applies if you redeem within the first 30 days, after that period it is exempt. Here is the IOF table:
Topics to remember:
Have a CPF;
Open an Account at a Broker;
Study More About Direct Treasury;
Invest In Direct Treasury.
Got any questions, write in the comments below.